123eHost Data Centers
Where reliability and performance are paramount
123eHost recognizes that downtime is not an option for your web site. For this reason, we invest heavily in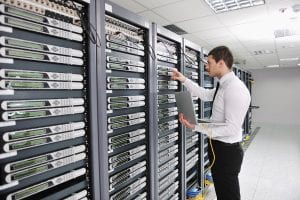 hardware, facilities, and man-power to ensure that our clients are up and running on the web 24 hours a day, 7 days a week.
We have several network centers at our disposal, across the United States and Canada:
– New Jersey
– Pennsylvania
– New York
– Quebec
Our servers are custom designed by our experienced in-house technicians, using only the latest top quality name brand parts. We also keep spare parts in our inventory, just in case the unexpected happens.
 Security
The data centers, where the servers are physically located, are literally isolated from access except from the network operators. This is enforced with passcards and hand scanners and is done to ensure the security of the servers.
Power Systems
Our servers are equipped with redundant UPS systems (Uninterruptible Power Supply). In the event of a long-term power outage, the on-site diesel generator kicks in. This is done to ensure that power is fed to the servers at all times, no matter what.
Environment
Our tidy data centers are equipped with redundant HVAC systems (Heating Ventilation Air Conditioning). They are also equipped with an advanced fire suppression system. These systems are in place to ensure an ideal and dust free environment for the servers.

Connectivity and Bandwidth Providers
123eHost' connectivity is provided by multiple, hand-picked Tier 1 carriers, and it offers multiple, redundant direct connections. This enables our traffic to bypass slower Internet service providers and take the shortest possible path between the GV data center and your users around the world. Our architecture features low latency, lightning-fast speeds and top-notch reliability that you will not find anywhere else. 123eHost will provide you with the tools, bandwidth and stability that you require for your mission-critical applications.
123eHost provides maximum speed and redundancy from premium bandwidth providers, including: